Welcome to the Goldwing Misfits Group
In 2006, the Goldwing Misfits Motorbike Group was formed by its current chairman Ron Lawson, for enthusiasts with a shared interest in the Honda Goldwing, the world's finest touring motorcycle. The group's main objectives include organising and promoting runs, fun weekends away, social events and visiting motorbike shows, all accomplished without the need for monthly meetings or committees.
---
Looking for more information or to have the Goldwings appear at your event?
Please complete the form below to send us an email
SUMMER OF ENTERTAINMENT RETURNS TO SOUTH TYNESIDE… Monsters, myths and magic will herald the start of a summer of entertainment, when the South Tyneside Festival returns The annual Summer Parade will take place on 30 June, when hundreds of youth groups, schools and community organisations will be taking up the theme of monsters, myths and magic, under the artistic direction of South Shields-based Community Interest Company, Creative Seed. The parade will make its way throughout the town and end at Bents Park, where visitors can enjoy a range of family-friendly activities and live music. The event is a carnival type Parade this year the theme is Monsters Myths. and Magic , you can dress up if you wish or just show off the bikes, we normally lead the Parade. If anyone is interested in attending and taking part there is a Premier Inn at Tyne Dock South Shields about 2 miles from the south end of the Tyne Tunnel and 1–2miles from venue, there is also the Sea Hotel Sea Road South Shields which is next to the Bents Park. there is also numerous Bed and Breakfast venues in Ocean Road.. If you want to come along, let me know a.s,a,p so I can register the approximate numbers for the Parade . Apart from the Parade we will arrange a night out to settle the dust and sample a local Curry.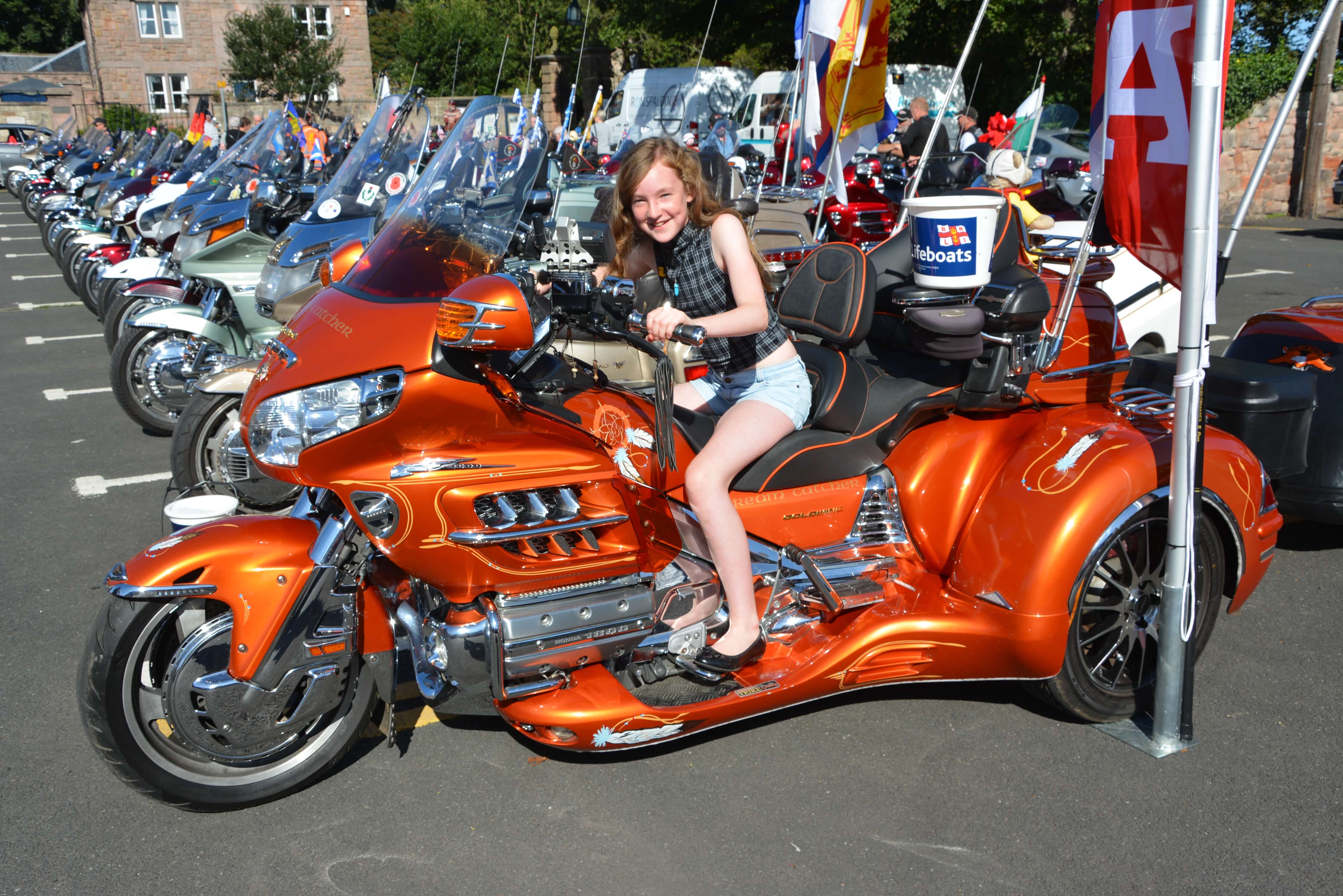 Vhari Smith
From Duns
Sitting on a Honda Goldwing 1800 Trike helping raise £2900 funds for the RNLI Berwick Life Boat
Colin Appleyard Motorcycles
We are so pleased to announce that Colin Appleyard Motorcycles recognized as one of the UK's foremost specialist Honda Goldwing & Trike centres, With a massive selection of Goldwing bikes and trikes for sale, as well as a huge range of Goldwing parts and accessories. Are coming to this year Berwick Light Parade. With a wealth of knowledge and experience so if you're looking for help or just a chat about the scene, You can contact Barry at our Keighley shop on 01535 606 311 or by email at b.walton@colinappleyard.com

Shiny Bits For Your Goldwing
The Honda Goldwing began life in 1975 with its first model the GL1000 and more than 40 years on and a number of models later the GL1800 the Goldwing is known as the greatest touring motorcycle ever built.
Shinywing started in 2010 and are now a leading European suplier of parts and accessories for the Goldwing.
We have a 1500sq ft retail showroom and a 1000sg ft workshop in Little Island Cork, Ireland  
GOLDWINGS MISFITS ARE A GROUP OF
GOLDWING RIDERS

, PARTNERS AND
FRIENDS OF RIDERS WHO HAVE A NUMBER OF THINGS IN COMMON