The GL1200 brought the Gold Wing to the outer limits of the four-cylinder engine's performance and sophistication. The added power and torque of the larger, 1182cc engine made the Gold Wing the king of its class in 1984, with a combination of smoothness and low-rpm acceleration that couldn't be matched. The addition of hydraulic valve adjustment now made the Wing virtually maintenance-free. At the same time, chassis improvements made the big Wing feel amazingly agile, and open-road comfort was superlative. 1984 GL1200 Interstate The 84 GoldWing arrives with a new SOHC, 1182cc opposed four engine mated to a smooth five speed shaft drive set up, also available (GL1200,GL1200 Aspencade).  Colours Black,Wineberry Red,Metalic Grey,Pearl Blue, Wineberry Red (Interstate) Pearl Blue/Black, Burgundy/Brown, Metalic Beige /Brown( Aspencade).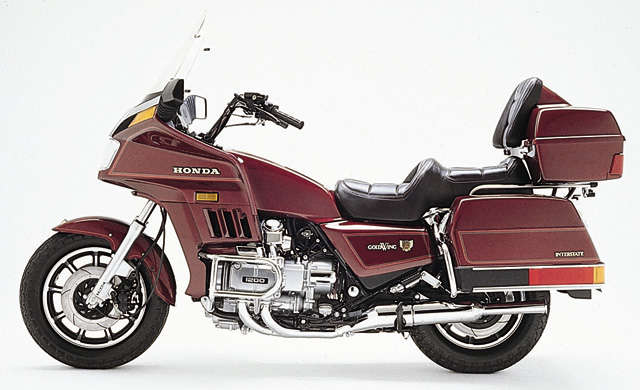 1984
Limited Edition
Honda marks the Wing's 10th anniversary in two significant ways. First, with the Gold Wing so firmly entrenched within the touring realm, Honda decides to drop the standard, unfaired GL1200. Second, an ultra-luxurious Limited Edition arrives, complete with computerized fuel injection, four-speaker sound system, cruise control, auto-leveling rear suspension, a comprehensive electronic travel computer, and special metallic gold paint.
Anna Engine Plant (AEP)
Following the success of its Marysville Motorcycle Plant, Honda builds an engine plant in nearby Anna, Ohio, to build Gold Wing engines. Just as Marysville's success paved the way for Honda's auto manufacturing in America, the Anna Engine Plant moved from manufacturing GL engines alone to building powerplants for Civics and Accords. At Anna, all the casting, forging, machining and heat-treating processes necessary to turn raw materials into finished, sophisticated engines reside under one roof. As one associate proudly observes, "We do what seven Honda plants do in Japan." 1985 GL1200 LTD Edition Ten years and the new ultra de luxe GL1200 LTD edition with computerised fuel injection, four chanel stereo, cruise control and an on board travel computer.  Aslo available (GL1200 Interstate GL1200 Aspencade)  Colours, Wineberry Red, Metalic Silver, Metalic Blue (Interstate), Vintage Red/Red, Satellite Blue/Blue( Aspencade), Gold/Brown(LTD).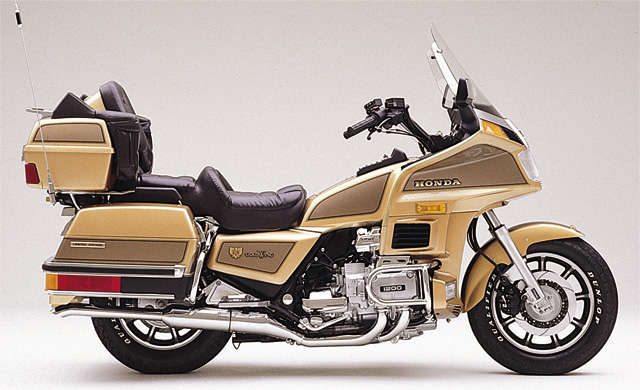 1985
1986 GL1200 Aspencade SE-i Many of the features as in the 85 model including cruise control, fuel injection and a dash mounted travel computer, also available (GL1200 Interstate, GL1200 Aspencade)  Colours, Wineberry Red, Black (Interstate), Metalic Beige/Red, Metalic Blue/Blue, Metalic Silver/Grey (Aspencade), Pearl White/Beige (SE-i).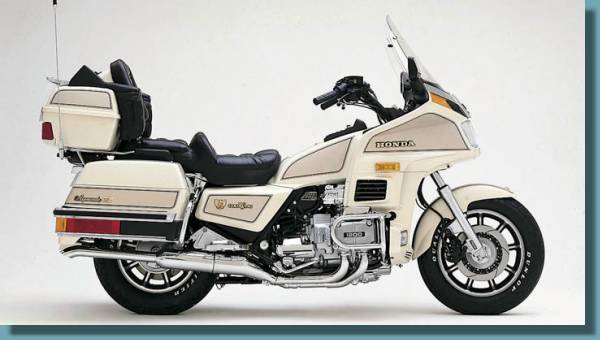 1986
1987 GL1200 Interstate A plush new duel seat tapered and foam filled to provide the ultimate comfort, also available( GL1200 Aspencade).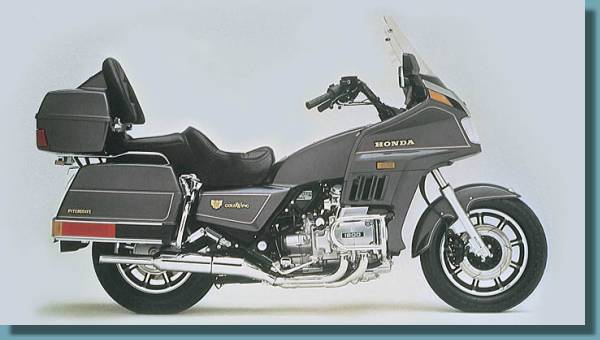 1987